Advances in Solar Heating and Cooling
Advances in Solar Heating and Cooling
Advances in Solar Heating and Cooling presents new information on the growing concerns about climate change, the security of energy supplies, and the ongoing interest in replacing fossil fuels with renewable energy sources.
The amount of energy used for heating and cooling is very significant, estimated, for example, as half of final energy consumption in Europe. Solar thermal installations have the potential to meet a large proportion of the heating and cooling needs of both buildings and industry and the number of solar thermal installations is increasing rapidly. This book provides an authoritative review of the latest research in solar heating and cooling technologies and applications.
Provides researchers in academia and industry with an authoritative overview of heating and cooling for buildings and industry in one convenient volume Part III, 'Solar cooling technologies' is contributed by authors from Shanghai Jiao Tong University, which is a world-leader in this area Covers advanced applications from zero-energy buildings, through industrial process heat to district heating and cooling.
You can also Read Fans and Ventilation- A practical guide
Advances in Solar Heating and Cooling  Content:
Introduction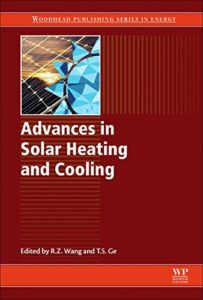 1 – Introduction to solar heating and cooling systems,
2 – Resource assessment and site selection for solar heating and cooling systems,
3 – Energy efficiency and environmental impact of solar heating and cooling systems,
4 – Non-tracking solar collection technologies for solar heating and cooling systems,
5 – Tracking solar collection technologies for solar heating and cooling systems
6 – Passive solar space heating,
7 – Innovations in passive solar water heating systems,
8 – Active solar space heating,
9 – Active solar water heating systems,
10 – Photo-voltaic-powered solar cooling systems,
11 – Solar-powered absorption cooling systems,
12 – Solar-powered adsorption cooling systems,
13 – Review of solar-powered desiccant cooling systems,
14 – Other types of solar-powered cooling systems,
15 – Sensible heat storage for solar heating and cooling systems,
16 – Latent heat storage for solar heating and cooling systems,
17 – Chemisorption heat storage for solar low-energy buildings,
Download