Solidworks 2013 Bible 1st Edition
Solidworks 2013 Bible 1st Edition
SolidWorks is the leading 3D solid modeling software used in computer-aided design. It's powerful but not simple. Solidworks 2013 Bible 1st Edition introduces beginners to the software but then goes far beyond, covering numerous details that advanced users have requested. Beginners will learn not only how the software works but why, while more experienced users will learn all about search criteria, Pack-and-Go, other file management concepts, and much more. A valuable companion website contains before and after real-world parts and assemblies along with many example files used in the text. Additionally, the text of the book is augmented by video tutorials with author voice-over which can be found on the website.
You can also read Introduction to Static Analysis Using SolidWorks Simulation 1st Edition
Solidworks 2013 Bible 1st Edition Content
Part I: Introducing SolidWorks Basics.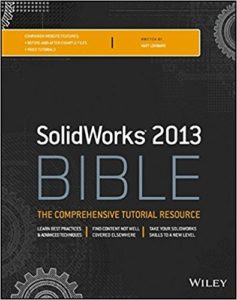 1: Introducing SolidWorks
2: Navigating the SolidWorks Interface
3: Working with Sketches
4: Creating Simple Parts and Drawings
5: Using Visualization Techniques
Part II: Building Intelligence into Your Parts.
6: Getting More from Your Sketches
7 Modeling with Primary Features
8: Selecting Secondary Features
9: Patterning and Mirroring
10: Using Equations
11: Working with Part Configurations
12: Editing, Evaluating, and Troubleshooting
Part III: Working with Assemblies.
13: Building Efficient Assemblies
14: Getting More from Mates
15: Patterning and Mirroring Components
16: Working with Assembly Sketches and Layouts
17: Using Assembly Tools
18: Using Libraries, Assembly Features, and Hole Wizard
19: Controlling Assembly Configurations and Display States
20: Modeling in Context
21: Editing, Evaluating, and Troubleshooting Assemblies
22: Working with Large Scale Design
23: Animating with the MotionManager
Part IV: Creating Drawings.
24: Automating Drawings: The Basics
25: Working with Drawing Views
26: Using Annotations and Symbols
27: Dimensioning and Tolerancing
28: Using Layers, Line Fonts, and Colors
29: Working with Tables and Drawings
30: Creating Assembly Drawings
Part V: Using Advanced and Specialized Techniques.
31: Modeling Multi-Bodies
32: Working with Surfaces.
33: Employing Master Model Techniques
34: Using SolidWorks Sheet Metal Tools
35: Creating Sheet Metal Drawings
36: Creating Weldments and Weldment Drawings
37: Using Imported Geometry and Direct Editing Techniques
38: Using Plastic Features
39: Using Mold Tools
Download