CWB – Canadian Welding Bureau Certificate Program Modules and Procedures Guide
CWB – Canadian Welding Bureau Certificate Program Modules and Procedures Guide
CWB – Canadian Welding Bureau Certificate Program Modules and Procedures Guide under CSA W47.1, W47.2, W186 and W55.3, providing a range of training materials to support the needs of engineers looking to specialize in welding.
Each company applying for certification in Division 1 or 2 of CSA Standard W47.1, W47.2 or W55.3 must designate and qualify a Welding Engineer who is responsible for welding related activities as specified by the company.
Companies applying for certification to CSA Standard W186, must designate and qualify one or more engineers who will be responsible for Welding Design, and Welding Procedures and Practice.
The engineer(s) must be designated by a company, certified or applicant prior to applying for the Qualification of Welding Engineer.
The engineer(s) must meet the following minimum requirements of the applicable standard.
You can also read Gas Turbine Diagnostics Signal Processing and Fault Isolation
Protect yourself and your company with this module designed to work in conjunction with your local code. Learn a general awareness of health and safety aspects related to welding and similar processes. Items specific to hazards, noise, safety practices for welding and cutting, WHMIS, electrical shocks, protective clothing and devices, fume generation and ventilation, and welding and cutting in confined spaces are covered.
CWB – Canadian Welding Bureau Certificate Program Modules and Procedures Guide Content
01- Welding Health & Safety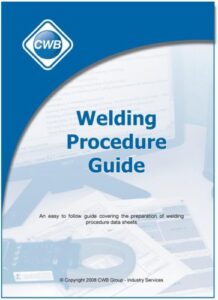 02- Basic Joints & Blueprint Reading
03- Symbols for Welding
04- Welding Process & Equipment
05- Power Source for Welding
06- Electrodes & Comsumables
07- Distortion & Residual Stress
08- Basic Metallurgy & Material Spec
09- Basic Welding Metallurgy of Structural Steel
10- Weld Faults & Causes
11- Basic Inspection Technology
12- Mechancial Testing of Welds
13- Codes & Standards
14- Basic Concepts of Quality
15- Functions of the Inspector
16- Techniques of Visual Inspection
17- Surface Inspection
18- Radiographic Inspection
19- Ultrasonic Inspection
20- Structure & Properties of Metal
21- Welding Metallurgy of Steels
22- Welding Metallurgy of Stainless Steels
23- Welding Metallurgy of Non-Ferrous & Cast Iron
Download