ASHRAE Fundamentals Handbook 2017 SI and IP Edition
ASHRAE Fundamentals Handbook 2017 SI and IP Edition
ASHRAE Fundamentals Handbook 2017 SI and IP Edition covers basic principles and data used in the HVAC&R industry. The ASHRAE Technical Committees that prepare these chapters provide new information, clarify existing content, delete obsolete materials, and reorganize chapters to make the Handbook more understandable and easier to use.
PSYCHROMETRICS uses thermodynamic properties to analyze conditions and processes involving moist air. This chapter discusses perfect gas relations and their use in common heating, cooling, and humidity control problems. Formulas developed by Herrmann et al. (2009) may be used where greater precision is required.
You can also Read ASHRAE Laboratory Design Guide : Planning and Operation of Laboratory HVAC Systems 2nd Edition
Atmospheric air contains many gaseous components as well as water vapor and miscellaneous contaminants (e.g., smoke, pollen, and gaseous pollutants not normally present in free air far from pollution sources).
ASHRAE Fundamentals Handbook 2017 SI and IP Edition Content
PRINCIPLES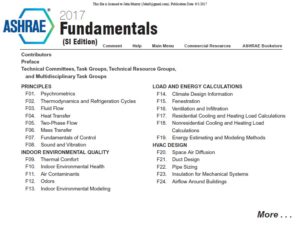 1. Psychrometrics
2. Thermodynamics and Refrigeration Cycles
3. Fluid Flow
4. Heat Transfer
5. Two-Phase Flow
6. Mass Transfer
7. Fundamentals of Control
8. Sound and Vibration
INDOOR ENVIRONMENTAL QUALITY
9. Thermal Comfort
10. Indoor Environmental Health
11. Air Contaminants

12. Odors
13. Indoor Environmental Modeling
LOAD AND ENERGY CALCULATIONS
14. Climatic Design Information
15. Fenestration
16. Ventilation and Infiltration
17. Residential Cooling and Heating Load Calculations
18. Nonresidential Cooling and Heating Load Calculations
19. Energy Estimating and Modeling Methods
HVAC DESIGN
20. Space Air Diffusion
21. Duct Design
22. Pipe Design
23. Insulation for Mechanical Systems
24. Airflow Around Buildings
BUILDING ENVELOPE
25. Heat, Air, and Moisture Control in Building
Assemblies—Fundamentals
26. Heat, Air, and Moisture Control in Building
Assemblies—Material Properties
27. Heat, Air, and Moisture Control in Building
Assemblies—Examples
MATERIALS
28. Combustion and Fuels
29. Refrigerants
30. Thermophysical Properties of Refrigerants
31. Physical Properties of Secondary Coolants (Brines)
32. Sorbents and Desiccants
33. Physical Properties of Materials
GENERAL
34. Energy Resources
35. Sustainability
36. Moisture Management in Buildings
37. Measurement and Instruments
38. Abbreviations and Symbols
39. Units and Conversions
40. Codes and Standards
Download
OR