SolidWorks 2017 Black Book Colored 
SolidWorks 2017 Black Book Colored
SolidWorks 2017 Black Book Colored is a parametric, feature-based solid modeling tool that not only unites the three-dimensional (3D) parametric features with two-dimensional (2D) tools, but also addresses every design-through-manufacturing process. The continuous enhancements in the software has made it a complete PLM software. The software is capable of performing analysis with an ease. Its compatibility with CAM software is remarkable. Based mainly on the user feedback, this solid modeling tool is remarkably user-friendly and it allows you to be productive from day one.
The SolidWorks 2017 Black Book is the forth edition of our series on SolidWorks. With lots of additions and thorough review, we present a book to help professionals as well as learners in creating some of the most complex solid models. The book follows a step by step methodology. In this book, we have tried to give real-world examples with real challenges in designing. We have tried to reduce the gap between university use of SolidWorks and industrial use of SolidWorks.
You can also Read Solidworks 2013 Bible 1st Edition
In this edition of book, we have included many new features of SolidWorks like 3D printing, SolidWorks MBD (Model Based Definition), Magnetic Mates, Asset Builder, 3D PDFs, and so on. There are about 60 topics newly added in this book which were not in the previous edition. The book covers almost all the information required by a learner to master the SolidWorks. The book starts with sketching and ends at advanced topics like Mold Design, Sheetmetal, Weldment, and SolidWorks MBD.
The major topics covered in SolidWorks 2017 Black Book Colored:
• Installing SolidWorks 2017.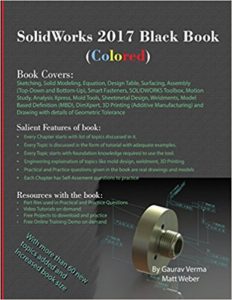 • Starting SolidWorks 2017.
• Starting a new document.
• Terminology used in SolidWorks.
• Opening a document.
• Closing documents.
• Basic Settings for SolidWorks
• Workflow in Industries using the SolidWorks
SolidWorks 2017 Black Book Colored Product details
Paperback: 518 pages
Publisher: CADCAMCAE Works (November 26, 2016)
Language: English
ISBN-10: 0995097461
ISBN-13: 978-0995097469
Product Dimensions: 8.5 x 1 x 11 inches
Shipping Weight: 3.5 pounds
Download