INTRODUCTION TO Solid Modeling Using SOLIDWORKS 2017
INTRODUCTION TO Solid Modeling Using SOLIDWORKS 2017
As design engineers and engineering professors, the authors have witnessed incredible changes in the way that products are designed and manufactured. One of the biggest changes over the past 20 years has been the development and widespread usage of solid modeling software. When we first saw solid modeling, it was used only by large companies. The cost of the software and the powerful computer workstations required to run it, along with the complexity of using the software, limited its use. As the cost of computing hardware dropped, solid modeling software was developed for personal computers. In 1995, the SolidWorks Corporation released the initial version of SOLIDWORKS® software, the first solid modeling pro-gram written for the Microsoft Windows operating system. Since then, the use of solid modeling has become an indispensable tool for almost any company, large or small, that designs a product.
You can also Read CATIA V5-6R2014 for Designers 12th Edition
INTRODUCTION TO Solid Modeling Using SOLIDWORKS 2017
PART ONE Learning SOLIDWORKS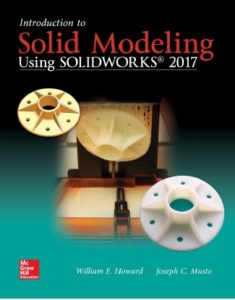 Basic Part Modeling Techniques
Engineering Drawings
Additional Part Modeling
Advanced Part Modeling
Parametric Modeling Techniques
Creation of Assembly Models
Advanced Assembly Operations
Assembly Drawings
PART TWO Applications of SOLIDWORKS
Generation of 2-D Layouts
Solution of Vector Problems
Analysis of Mechanisms
Design of Molds and Sheet Metal
The Use of SOLIDWORKS to Accelerate the Product Development Cycle
A:Recommended Settings
B:The SOLIDWORKS Interface
While anyone desiring to learn the SOLIDWORKS program can use this book, we have added specific elements for beginning engineering students. With these elements, we have attempted to introduce students to the design process and to relate solid modeling to subjects that most engineering students will study later. We hope that the combination of the tutorial style approach to teaching the functionality of the soft-ware together with the integration of the material into the overall study of engineering will motivate student interest not only in the SOLIDWORKS software but in the profession of engineering.
Download